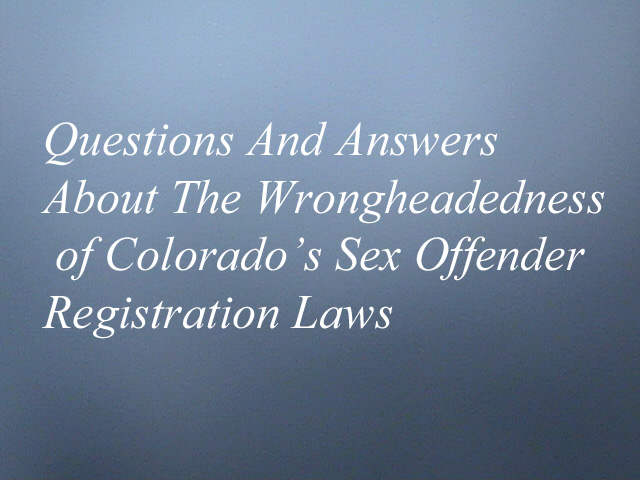 by H. Michael Steinberg Colorado Sex Crimes Sex Offender Registration Law Attorney
Questions And Answers About The Wrongheadedness of Colorado's Sex Offender Registration Laws – After many years of experience with Colorado's Sex Offender Registration Laws – convicted sex offenders and even those impacted secondarily by these laws experience both serious and negative consequences the implementation of the law's requirements.
Some of those problems include – innocent families that have been harassed, the victims of sexual abuse being publicly identified, and private residences of law abiding citizens being posted on sex offender registries as the residences of sex offenders. If you are eligible to deregister – call our firm.
Some Of The Problems with Colorado's Sex Offender Registration Law
The Problem With Public Notification Laws
Public notification laws were originally passed in response to the public's need to address truly horrific crimes – crimes such as rape-murders, or extremely violent assaults on victims. He truth is that the vast majority of sexual offenses do not involve any form of violence.
Sex offender laws often registration laws expose delicate family based treatment modalities that require – to be successful – the kind of secrecy that allows those participating to be completely truthful. Because of the inability of prosecutors to put tighter controls on who receives sex offender information and inconsistent standards of how notifications are actually conducted from city to city, great damage can result.
There is no evidence that to support the efficacy of sex offender registration laws in the area of the promotion of community protection and safety.
Colorado Is Coerced By The Federal Government To Pass Sex Offender Registration Laws
The cost of the monitoring and the enforcement of sex offender laws by the police, the courts, and probation and parole agencies is not covered by the federal government that mandates these laws or face losing federal funding. Because of this – many states – including Colorado – do not adequately fund the requirements to provide these laws. In some cases incorrect addresses have been given leading to the public exposure of innocent persons.
Vigilante Violence Against Registered Sex Offenders
Vigilante violence is a well known result of the public notification of sex offenders. Violence is directed not only against registered sex offenders. Innocent people are often mistaken for sex offenders. They have been assaulted and had their property damaged. Once the home address of a known sex offender is made public – acts of vigilante "justice" often results.
The Publication Of Sex Offender's Information Is Counterproductive
Colorado's sex offender registration laws make public information that is counterproductive towards mental health – medical treatment modalities. Details of their crimes that are posted on public registries takes away the offenders' need for confidentiality so critical to successful treatment.
The Public Registration of Sex Offenders Is Another Form Of Punishment.
The use by law enforcement agencies to publicize the crimes of sex offenders is a form of punishment. Professionals and others use this law beyond the way it was designed. The organization by law enforcement personnel to systematically exclude sex offenders from housing – from employment opportunities and from returning to a more normalized existence is nothing more than another form of punishment that extends well beyond what justice requires.
Removing housing and employment opportunities actually drives these same individuals into committing crimes out of frustration and desperation and the stress at not settling into life in the community.
Suicide, in extreme cases, results from the public humiliation to those subject to registration. These individuals often fear the impact on their spouse, their children – their extended families and friends and notification laws. .
Colorado Sex Offender Laws Create Increasing Levels Of Panic As More Offenders Live In The Community
The use of public registration laws actually causes unreasonable and unnecessary fear and anxiety to those who live near a convicted sex offender. Increasing numbers of registered sex offenders means increasing levels of panic in local communities disproportional to the impact of the registration itself.
Citizens do not feel "safer" knowing that there are sex offenders moving into and living in the neighborhood, on the contrary – the publication of known sex offenders – in the absence of understanding the true risk of these individuals has the opposite effect – it causes the kind of hysteria that leads to violence.
There is no evidence that sex offender registration laws have prevent sex crimes or make communities safer.
Colorado Convicted Sex Offenders Pose Very Different Risk Levels But Very Little Distinction Is Made On The Sex Offender Registry
Actual Risk levels are not published with the information provided online. Public notification is not based on a determination of the dangerousness of a particular offender in question. No consistent tool is being used to approximate the actual risk. Reliable risk assessments are necessary to help citizens interpret the real risk of the offender living in their neighborhood if sex offender registration is going to continue to be the law.
Sex Offender Treatment Is Hindered By Sex Offender Public Registration Laws
Those in the field of sex offender treatment know that treatment must address: "poor anger management skills, fear, lack of trust, low self-esteem, feelings of rejection, inadequate social skills, lack of empathy, isolation from others, and poor communication skills." Addressing these issues means having good community support systems as well as close ties in the community.
Sex offender treatment is most effective when convicted sex offenders take responsibility for their behavior. Sex offenders learn to take responsibility for their behavior and stop the abuse when the quality of their sex offender treatment includes the support -not the hatred – of their community.
The Real Need For The Colorado Convicted Sex Offender Must Include Functioning In The Community.
To learn the appropriate skills to live and function safely in the community, the kind of threats, harassment, and fear of reprisal by citizens that result from public sex offender registration contribute to a constant state of stress and anxiety. Bottom line – sex offender registration and public notification laws compromise the sex offender's ability to do so in a healthy and safe way.
If you found any information I have provided on this web page article helpful please click my Plus+1 button below so that others may also find it.
ABOUT THE AUTHOR: H. Michael Steinberg – Email The Author – A Denver Colorado Sex Crimes Criminal Defense Lawyer – or call his office at 303-627-7777 during business hours – or call his cell if you cannot wait and need his immediate assistance – 720-220-2277.
If you are charged with A Colorado crime or you have questions about Colorado's sex Offender Registration Laws, please call our office. The Law Offices of H. Michael Steinberg, in Denver, Colorado, provide criminal defense clients with effective, efficient, intelligent and strong legal advocacy. We can educate you and help you navigate the stressful and complex legal process related to your criminal defense issue.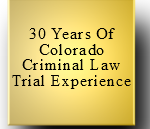 H. Michael Steinberg, is a Denver, Colorado criminal defense lawyer with over 30 years of day to day courtroom experience – specializing in Colorado Criminal Law along the Front Range. He will provide you with a free initial case consultation to evaluate your legal issues and to answer your questions with an honest assessment of your options. Remember, it costs NOTHING to discuss your case. Call now for an immediate free phone consultation.
---
Helping Clients To Make Informed Decisions In the Defense of Colorado Criminal Cases.
Contact A Lawyer with Three Decades of Experience as a Denver Criminal Attorney at The Steinberg Colorado Criminal Defense Law Firm today.
Colorado Defense Lawyer H. Michael Steinberg provides solid criminal defense for clients throughout the Front Range of Colorado – including the City and County courts of Adams County, Arapahoe County, City and County of Boulder, City and County of Broomfield, City and County of Denver, Douglas County, El Paso County – Colorado Springs, Gilpin County, Jefferson County, Larimer County, and Weld County,…. and all the other cities and counties of Colorado along the I-25 Corridor… on cases involving ..