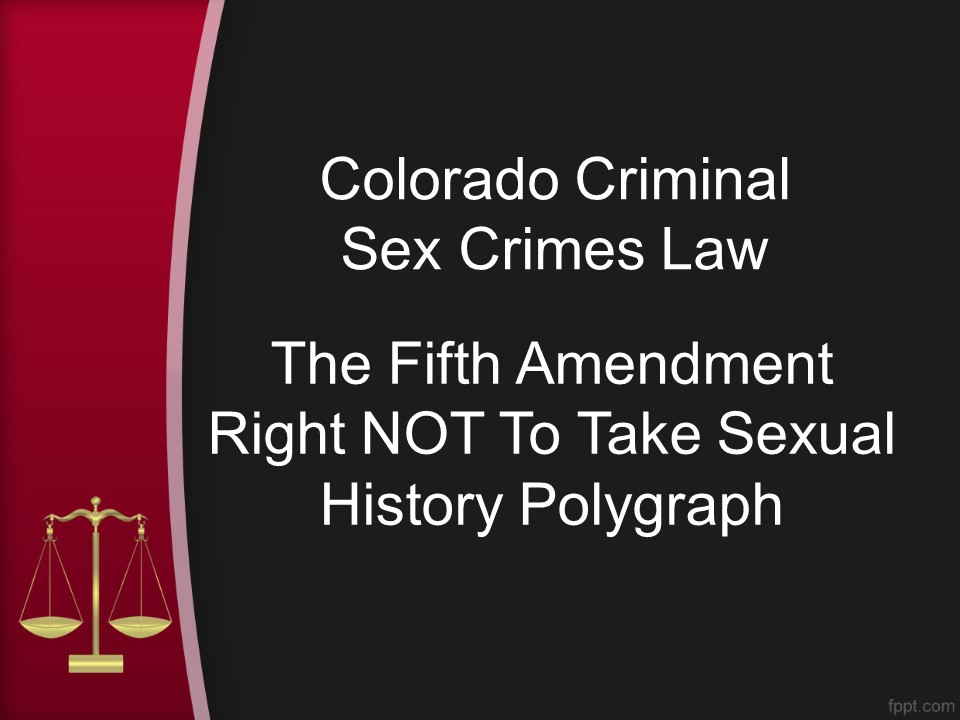 By H. Michael Steinberg – Colorado Sex Crimes Criminal Defense Lawyer
Fifth Amendment Right NOT To Take Sexual History Polygraph – Colorado Criminal Sex Crimes Law – In Colorado and around the country – if you are on SOISP – Sex Offender Intensive Supervision Probation – it has been a requirement of the therapy that you take – and pass – a polygraph known as a Sexual History Polygraph. The refusal to take this polygraph – which I have always believed runs contrary to the Fifth Amendment Right against self incrimination – meant INSTANT failure at therapy ejection from therapy and loss of probation – essentially – in most cases – it means prison.
A new Federal Appellate – case decided May 10, 2016 – may have an impact in Colorado and across the country. That case is U.S. v. Von Behren, No. 15-1033 (10th Cir. May 10, 2016)
While the case was a decision of the 10th Circuit Federal Court (which includes Colorado), and not the State of Colorado, the reasoning – the type of Colorado SOISP program – even the program used in this case are "on all fours" with what is now going on in the Colorado State Criminal Courts.
The Issue: Is A Requirement That Under Colorado's SOMB (Sex Offender Management Board) That Sex Offenders On Probation Take Sexual History Polygraphs A Violation Of The Fifth Amendment?
It can be said that among the most difficult conditions for an individual placed on Colorado Sex Offender probation is that he or she successfully complete a sex offender treatment program that complies with the written standards mandated by the Colorado Sex Offender Management Board (SOMB).
The Colorado SOMB was created in 1992 and is a regulatory board tasked with developing and implementing statewide standards for the assessment, evaluation, treatment, and behavioral monitoring of adult sex offenders.
As a condition of Sex Offender Intensive Supervision Probation – a probationer is required to complete that program and sign a "contract" that has certain specific provisions. That contract is non-negotiable. The Sexual History polygraph is required to advance through the program and a failure to complete the sexual history polygraph successfully (non-deceptive) results in a removal from the program.
In this case, the Sexual History Polygraph required the Defendant to answer four questions regarding whether he had committed sexual crimes for which he was never charged. The actual questions are not relevant here.
The Sex Offender agreement contained – among many others – these three common provisions:
1. The defendant shall participate in an approved program of sex offender evaluation and treatment, which may include polygraph, plethysmograph and Abel examinations, as directed by the probation officer. The defendant will be required to pay the cost of these evaluations and treatment. The defendant shall comply with the rules and restrictions specified by the treatment agency. The Court authorizes the probation officer to release psychological reports and/or the presentence report to the treatment agency for continuity of treatment.

2. The defendant shall notify the probation officer of all computers and/or other Internet access devices to which the defendant has access. The defendant shall allow the probation officer to make unannounced examinations of the data stored on the defendant's personal computer(s) and other Internet devices, and collected by such system(s) at any reasonable time and copy data which the probation officer believes may be evidence of a law violation or a technical violation of a condition of supervised release.

(HMS – Written In the First Person – the Sex Offender probationer is required to include the following paragraph)

3. I hereby instruct RSA, Inc. (the treatment provider in question in this case) to report to any appropriate authority or authorities any occurrence or potential occurrence of any sexual offense on my part regardless of how RSA, Inc. gains knowledge of such occurrence or potential occurrence. "Appropriate authority or authorities" as used in this and subsequent revisions may include, but is not limited to, County Human Services Departments, law enforcement agencies, probation or parole personnel, victims or potential victims, parents, spouses, school personnel, and employers.
The answers to the Sexual History Polygraph – are not immunized and have the capacity to lead to additional investigations that can result in NEW CHARGES. It is for that reason the 10th Circuit Court of Appeals held that such a procedure – the Sexual History Polygraph – is a violation of the 5th Amendment's prohibition against compelled self incrimination in the absence of a grant of immunity from prosecution as to the answers provided.
Understanding The 5th Amendment And How It Applies To The Colorado Sexual History Polygraph
First – a short version of the reasoning of the U.S. v. Von Behre Rule in legalese:
When a Government conditions the continued probationary release of a sex offender on compliance with a treatment program requiring full disclosure of past sexual misconduct, with no provision of immunity for disclosed conduct, it unconstitutionally compels self-incrimination in violation of the 5th Amendment privilege.
The Fifth Amendment Privilege Against Self-Incrimination
The Fifth Amendment:
"No person shall be held to answer for a capital, or otherwise infamous crime, unless on a presentment or indictment of a Grand Jury, except in cases arising in the land or naval forces, or in the Militia, when in actual service in time of War or public danger; nor shall any person be subject for the same offence to be twice put in jeopardy of life or limb; nor shall be compelled in any criminal case to be a witness against himself, nor be deprived of life, liberty, or property, without due process of law; nor shall private property be taken for public use, without just compensation."
Some Rules To Help You Understand Your Fifth Amendment Rights – Summarized
First – The Fifth Amendment to the United States Constitution states that no person "shall be compelled in any criminal case to be a witness against himself." U.S. Const. amend. V.

Second – The Fifth Amendment's privilege against self- incrimination applies not only to persons who refuse to testify against themselves at a criminal trial in which they are the defendant, "but also 'privileges [them] not to answer official questions put to [them] in any other proceeding, civil or criminal, formal or informal, where the answers might incriminate [them] in future criminal proceedings."

Third – "A Defendant does not lose this protection by reason of his conviction of a crime."
Three Tests Are Applied To Properly Analyze If A Person Qualifies For The Fifth Amendment Privilege
The communication in question must be:
1. Testimonial,

2. Incriminating, and

3. Compelled."
The 5

th

Amendment Privilege As It Applies To This Situation – The Sexual History Polygraph
1. Was It Testimonial?
This prong is easily met. Obviously being required to answer questions at a Sexual History polygraph is "testimonial."
"There is no doubt that answering questions during a polygraph examination involves a communicative act which is testimonial."
2. Was It Potentially Incriminating?
The incrimination prong is also straightforward, the Supreme Court has always broadly construed the protection afforded by the Fifth Amendment privilege against self- incrimination.
"[t]he protection does not merely encompass evidence which may lead to criminal conviction, but includes information which would furnish a link in the chain of evidence that could lead to prosecution, as well as evidence which an individual reasonably believes could be used against him in a criminal prosecution."

…"[n]ot much is required . . . to show an individual faces some authentic danger of self-incrimination, as the privilege 'extends to admissions that may only tend to

"The Fifth Amendment is triggered when a statement would provide a "lead" or "a link in the chain of evidence needed to prosecute the speaker."
In the Sexual History polygraph context answering certain questions could easily initiate an investigation into the commission of another sex crime – most of the time the crime would involve the admission of an uncharged sexual crime.
3. Was It Compelled?
"[T]he touchstone of the Fifth Amendment is compulsion . . . .". The privilege's prohibition against compulsion prevents the state from threatening to impose "substantial penalties"
This is so because "the privilege against compelled self-incrimination could not abide any 'attempt, regardless of its ultimate effectiveness, to coerce a waiver of the immunity it confers.'"
This prong is also easily met because even a potential "revocation of supervised release and concomitant incarceration . . . is sufficiently severe to constitute compulsion."
The mere threat to revoke a Colorado's Sex Offender loss of probation for the failure of that person to answer potentially incriminating questions clearly rises to the level of unconstitutional compulsion.
A threat to revoke one's probation for properly invoking his Fifth Amendment privilege is the type of compulsion the state may not constitutionally impose. Without a grant of immunity from prosecution, Colorado should not have the right to compel a waiver of Fifth Amendment privilege.
This new case U.S. vs Von Behren may set a new standard to stop these polygraphs – the future is written on the wall – this may be the beginning of the end for the Sexual History poly in the absence of a grant of immunity from prosecution.
Two new Colorado Court of Appeals and Colorado Supreme Court cases – People v. Ruch, 2016 CO 35 (May 16, 2016) and People v. Roberson, 2016 CO 36 (May 16, 2016), BOTH support the new role of asserting the 5th Amendment in the context of Colorado Sex Crimes probation violations and appeals.
Fifth Amendment Right NOT To Take Sexual History Polygraph – Colorado Criminal Sex Crimes Law
If you found any of the information I have provided on this web page article helpful please click my Plus+1 or the Share buttons for Twitter and Facebook below so that others may also find it.
If, after reading this article, you have questions about your case and would like to consider retaining our law firm, we invite you to contact us at the Steinberg Colorado Criminal Defense Law Firm – 303-627-7777.
Never stop fighting – never stop believing in yourself and your right to due process of law. You will not be alone in court, H. Michael at your side every step of the way – advocating for justice and the best possible result in your case.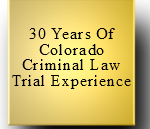 ABOUT THE AUTHOR: H. Michael Steinberg – Email The Author at [email protected] – A Denver Colorado Criminal Defense Lawyer – or call his office at 303-627-7777 during business hours – or call his cell if you cannot wait and need his immediate assistance – 720-220-2277. Attorney H. Michael Steinberg is passionate about criminal defense. His extensive knowledge and experience of Colorado Criminal Law gives him the edge you need to properly handle your case.
"A good criminal defense lawyer is someone who devotes themselves to their client's case from beginning to end, always realizing that this case is the most important thing in that client's life."
You should be careful to make a responsible choice in selecting a Colorado Criminal Defense Lawyer – and we encourage you to "vet" our firm. Over the last 30 plus years – by focusing ONLY on Colorado criminal law – H. Michael has had the necessary time to commit to the task of constantly updating himself on nearly every area of criminal law, to include Colorado criminal law and procedure and trial and courtroom practice. H. Michael works hard to get his clients the best possible results in and out of the courtroom. He has written, and continues to write, extensively on Colorado criminal law and he hopes this article helps you in some small way – Fifth Amendment Right NOT To Take Sexual History Polygraph – Colorado Criminal Sex Crimes Law.
Summary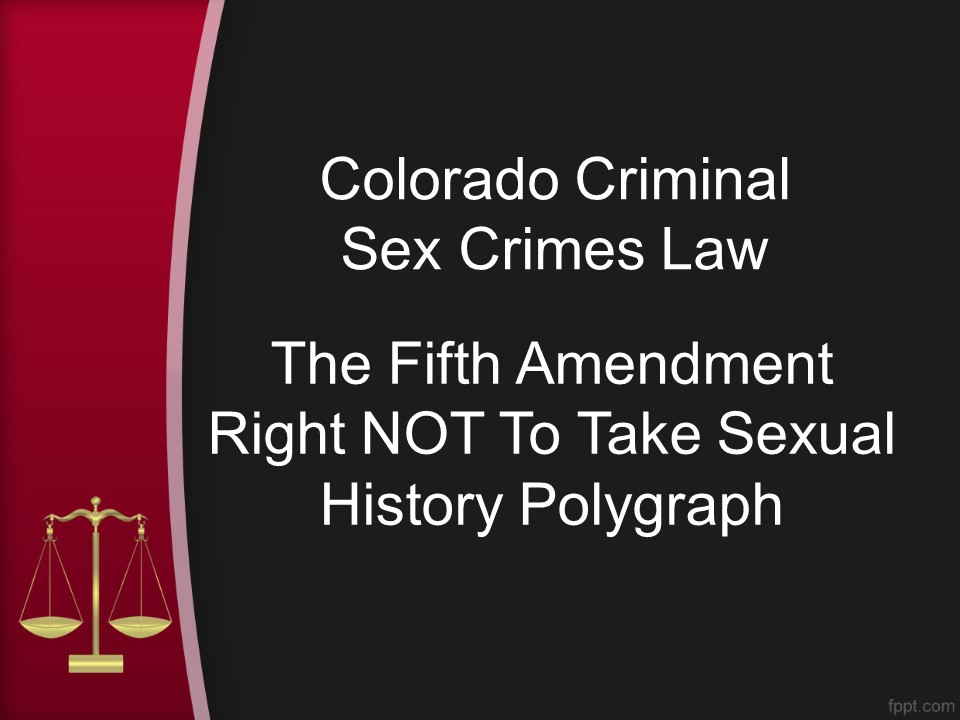 Article Name
Fifth Amendment Right NOT To Take Sexual History Polygraph - Colorado Criminal Sex Crimes Law
Author