The Do's and Don'ts On How To Retain A Good Criminal Defense Lawyer In Colorado And Elsewhere – A Guide
By H. Michael Steinberg Colorado Sex Crimes Criminal Defense Lawyer – Attorney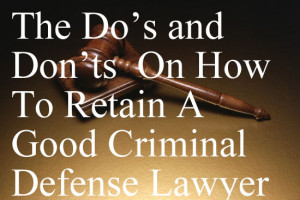 The Do's and Don'ts On How To Retain A Good Criminal Defense Lawyer In Colorado And Elsewhere – A Guide There can be no question that understanding the criteria before retaining a Criminal Defense Lawyer BEFORE you are in trouble.
Clearly sound, experienced representation is critical to achieving the best result possible when your life, your physical freedom, and your future are threatened by a criminal charge.
You are frightened and the thing you do not want to see happen is obtaining legal representation by a novice lawyer or, what may actually be a worse situation, a general practitioner who does criminal cases "sometimes."
When your life is on the line you need a specialist who understands every facet of the charges against you and the system prosecuting you.
So how do you find this lawyer? You may have little time to do your due diligence.
Some Foundational Do and Do Not principles To Understand And To Consider
DO Retain A Specialist In Colorado Criminal Law
Colorado Criminal Law Is Complex, Changes Quickly, and Cases Move Through The System
Criminal law is not only complex it changes more quickly than the slow moving areas of law in almost every other type of practice. A Colorado criminal lawyer who specializes in ONLY criminal law must keep up with all of the changes in their specialty.
DO Ask The Question – Do I Really Need A Criminal Defense Lawyer For This Case?
If you find yourself asking the above question – (especially if you have been charged with or arrested for a serious crime) – you DO need a lawyer. Sometimes you should retain a lawyer  before you are charged and or arrested for a Colorado Crime. This early bird approach is sometimes necessary when you realize you are now the target of a criminal investigation.
This is what is called "pre-filing (of charges) representation"
When you become the target of a criminal investigation – you should at least consult with an experienced criminal defense lawyer. Waiting until you are in jail or are standing in front of a judge being advised of the charges for the first time – may be too late.  Of course some cases – such as traffic cases, petty offenses and – or lower end misdemeanors, may not require anything more than a quick consultation with a good lawyer who is honest enough to tell you your case does not require a lawyer.
DO Get A Jump On A New Criminal Investigation Where YOU Are The Target
The old adage that the best defense is to go on the offense – is true. Getting a jump on selecting your lawyer and then developing a defense or even several defenses may stop charges from being filed – delay or influence the arrest  – or lessen the charges that are eventually filed.
In Complex Criminal Cases DO NOT Represent Yourself
I often receive calls from people already in serious trouble who are trying to decide whether or not to retain a lawyer or to represent themselves – known as going "pro se."
While it is understandable that people would want to save money and represent themselves in court in a minor traffic or even a petty offense matter – it makes no sense to self – represent in a complex criminal matter where there are dozens of variables requiring courtroom and other experience the average person simply does not have time to learn.
What Lawyers do.
Some Thoughts On Some Of The Things Lawyers DO.
Lawyers:
 Start investigating a case as soon as possible.
This may include – initially interviewing the client – obtaining physical or documentary evidence – and then conducting a separate investigation of the facts. At times – given the serious enough case, the Colorado criminal defense specialist will retain a private investigator to assists – in not only finding – but serving witnesses and conducting thorough interviews of them.
Conduct THOROUGH legal research.
Argue cases in open court.
Help their clients comprehend the scope of the Colorado criminal justice system which includes not only criminal procedure, but criminal law.
Develop tactics and strategies unique to each case.
Explore possible plea bargains and other negotiations with the District Attorney.
Help their clients to comprehend the legal and procedural possibilities in their case and  then help their clients make good decisions that arises out of a full understanding of their position.
Understand the local "customs and practices" of the trial courts in the criminal defense lawyers "turf" to take advantage of the nuances of each judge and each prosecutor in the jurisdiction in which the case is assigned.
If a plea bargain is the goal and one is arrived at – the criminal defense lawyer will take the sentencing phase as seriously as every other phase in the case – developing a sentencing strategy that ends with the best possible result.
If a trial is the goal, the criminal defense specialist will have the experience, skills and insight to win the case or to persuade a jury to select a less serious crime if they find they must convict.
DO Ask Concrete Questions Which Include – At A Minimum – The Following BASIC QUESTIONS LIST
You will need to obtain truthful answers to at least the following minimalist list of key questions to ask your Colorado Criminal Defense Lawyer:
Q: How many total years have you practiced COLORADO criminal law?
Q: Do you have any experience on the other side of the courtroom – as a prosecutor? Please identify that experience. How many years did you practice law as a prosecutor and why did you leave?
Typically District Attorneys spend a great deal of time in front of local judges. They become known to those judges and often develop strong and positive relationship with not only the judges but their staffs. When prosecutors return to court as criminal defense lawyers and practice in front of these same judges – those relationships – built over many years – hopefully have developed the kind of reputation – (the result of years of hard work) – that benefits the clients of these former prosecutors.
Prosecutors in a very short time – handle a volume of cases that other lawyers will never experience. As an Arapahoe – Douglas County Senior Trial Deputy for more than 13 years, I analyzed, assessed the evidence, reviewed and then prosecuted tens of thousands of cases from every type of homicide to DUI and other misdemeanor and traffic cases.
Former prosecutors can communicate with present prosecutors especially in complex cases. They understand the inner workings of the District Attorney's Office. A accomplished former prosecutor makes a formidable defense attorney. They are consummate professionals who will  negotiate the cases that should be negotiated and try the cases that should be taken to trial.
Q: What kinds of Colorado crimes have you defended? How serious? How long have you defended individuals charged with Colorado crimes?
All criminal cases are different. Not all crimes can be approached in the same way. The Colorado criminal defense lawyer you select must have experience and knowledge in defending the specific crime you are facing. Ask your candidate lawyers exactly this question – "what experience do you have prosecuting and defending this crime?" – (such as domestic violence, sexual assaults, homicide, kidnapping, child abuse)
 Q: Will you personally handle my case or will I be handed off to one or more junior or so called "associate lawyers." Will YOU be going with me to court on my behalf?
Q: Are you available after business hours or on weekends if I need to reach you? If I call or email you, how long does it take for you to get back to me?
Some Follow Up Concepts And Thoughts About The Minimal List – KEY Criteria When Retaining A Colorado Criminal Lawyer?
What is the experience level and reputation of the law firm?
How much actual trial experience does the lawyer have – over what period of time?
How experienced is the law firm with the local Colorado criminal justice system where the case is pending?
DO NOT Trust Lawyers Who Make Promises and/or Guarantees
This is very difficult for many to understand. A lawyer is bound by an ethical code that means that the lawyer cannot promise or guarantee anything more than that lawyer will use his or her professional and most aggressive efforts to achieve the best possible result in a criminal case.
Ethical lawyers will give you their very best efforts in EVERY case – that means thorough preparation, carefully educating their clients, and keeping their clients informed of the progress of their case. It also means being direct and honest about the case. Any lawyer who makes promises as to a specific outcome in any given case is not telling you the complete truth and should not be trusted. There are idiosyncracies in every case that make such promises impossible.
You may feel better temporarily and retain the lawyer – but in the long term honesty is truly the best policy.
DO Ask Questions And Thoroughly Understand How The Lawyer Structures The Legal Fee In Your Case
Most criminal defense lawyers charge a flat fee per case. That is one flat fee for all non-trial related matters and another fee if a case goes to trial. Colorado law requires that this flat fee be "structured" and "phased" to each stage of the case the lawyer earning a portion of the fee after each phase is completed.
Flat fees – it is generally agreed – is the type of fee that is in the client's best interest because of the certainty of the amount of the fee and because the client pays only for the services actually rendered.
I include the following list in each of my fee agreements with my clients. The list is taken from the ethics laws that apply to all Colorado lawyers. I include this list in every one of my fee agreements because it assists my client's understanding of the bases for setting their fee.
The key factors that apply to setting fees in Colorado criminal cases are found in Rule 1.5
RULE 1.5
(a) A lawyer's fee shall be reasonable. The factors to be considered in determining the reasonableness of a fee include the following:
(1) the time and labor required, the novelty and difficulty of the questions involved, and the skill requisite to perform the legal service properly;
(2) the likelihood, if apparent to the client, that the acceptance of the particular employment will preclude other employment by the lawyer;
(3) the fee customarily charged in the locality for similar legal services;
(4) the amount involved and the results obtained;
(5) the time limitations imposed by the client or by the circumstances;
(6) the nature and length of the professional relationship with the client;
(7) the experience, reputation, and ability of the lawyer or lawyers performing the services; and
(8) whether the fee is fixed or contingent.
DO Retain A Lawyer Who Specializes ONLY In Colorado Criminal Law And DO NOT Retain A Lawyer Who Practices In Multiple Areas Of Law
A specialist who practices Colorado criminal law and only Colorado criminal law – does not take cases involving family law, personal injury law, bankruptcy law, real estate law and the like. Criminal law and the court procedures influencing the prosecution and defense of the laws in criminal cases change so constantly that lawyers subjected to the distractions of handling competing types of cases have difficulty staying on top of changes to criminal law. Criminal law "specialists" – like all specialists – are typically the best in their practice area.
Summary and Conclusion – The Do's and Don'ts On How To Retain A Good Criminal Defense Lawyer In Colorado And Elsewhere – A Guide
With the Steinberg Colorado Criminal Defense Law Firm, you are getting an experienced and skilled attorney who will help deliver the best result achievable results.
H. Michael is not only well received and well -respected by his clients, but his colleagues, those lawyers he practices with every day – his fellow criminal defense lawyers, as well as opposing DA's (District Attorneys) and Judges across the state consistently place him among the highest rated and well regarded criminal defense lawyers in the state of Colorado
The Do's and Don'ts On How To Retain A Good Criminal Defense Lawyer In Colorado And Elsewhere – A Guide
If you found any information I have provided on this web page article helpful please click my Plus+1 or the "share" button below so that others may also find it.
Never stop fighting – never stop believing in yourself and your right to due process of law.
ABOUT THE AUTHOR: H. Michael Steinberg – Email The Author at [email protected] – A Denver Colorado Criminal Defense Lawyer – or call his office at 303-627-7777 during business hours – or call his cell if you cannot wait and need his immediate assistance – 720-220-2277. Attorney H. Michael Steinberg is passionate about criminal defense. His extensive knowledge and experience of Colorado Criminal Law gives him the edge you need to properly handle your case.
A Disclaimer: While every effort has been made to ensure the accuracy of this publication, it is not intended to provide legal advice as individual situations will differ and should be discussed with an expert and/or lawyer. If you are seeking counsel there maybe other more specific technical or legal advice on the information provided and related topics. For that, please contact the author.
If you are charged with A Colorado crime or you have questions about the topic of this article – , please call our office. The Law Offices of H. Michael Steinberg, in Denver, Colorado, provide criminal defense clients with effective, efficient, intelligent and strong legal advocacy. We can educate you and help you navigate the stressful and complex legal process related to your criminal defense issue.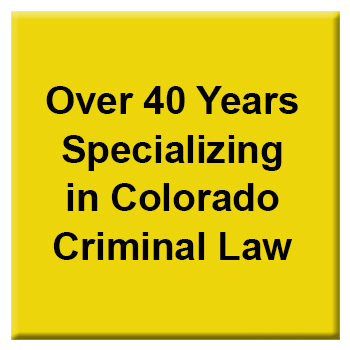 H. Michael Steinberg, is a Denver, Colorado criminal defense lawyer with over 40 years of day to day courtroom experience – specializing in Colorado Criminal Law along the Front Range. He will provide you with a free initial case consultation to evaluate your legal issues and to answer your questions with an honest assessment of your options. Remember, it costs NOTHING to discuss your case. Call now for an immediate free phone consultation.
Helping Clients To Make Informed Decisions In the Defense of Colorado Criminal Cases.
Contact A Lawyer with over Three Decades of Experience as a Denver Criminal Attorney.
Colorado Defense Lawyer H. Michael Steinberg regularly appears and provides solid criminal defense for clients throughout the Front Range of Colorado – including the courts of:
Adams County (Adams County criminal defense lawyer), Arapahoe County (Arapahoe County criminal defense lawyer), City and County of Boulder (Boulder County criminal defense lawyer), City and County of Broomfield (Broomfield County criminal defense lawyer), City and County of Denver (Denver criminal defense lawyer), Douglas County (Douglas County criminal defense lawyer), El Paso County – Colorado Springs (Colorado Springs criminal defense lawyer), Gilpin County (Gilpin County criminal defense lawyer), Jefferson County (Jefferson County criminal defense lawyer), Larimer County, and Weld County ( Larimer and Weld County criminal defense lawyer,….
and all the other cities and counties of Colorado along the I-25 Corridor… on cases involving the subject of this article The Do's and Don'ts On How To Retain A Good Criminal Defense Lawyer In Colorado And Elsewhere – A Guide.
Summary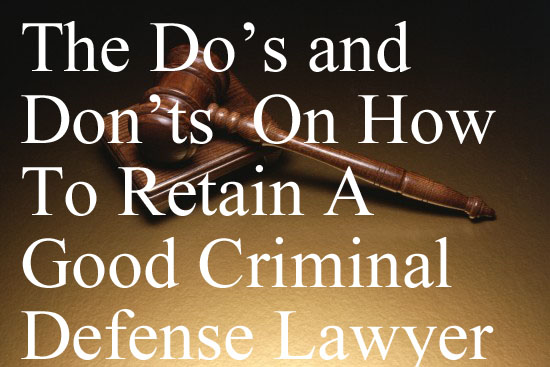 Article Name
The Do's and Don'ts On How To Retain A Good Criminal Defense Lawyer In Colorado And Elsewhere - A Guide
Description
There can be no question that understanding the criteria before retaining a Criminal Defense Lawyer BEFORE you are in trouble. Clearly sound, experienced representation is critical to achieving the best result possible when your life, your physical freedom, and your future are threatened by a criminal charge.
Author
Other Articles of Interest:
If you found the information provided on this webpage to be helpful, please click my Plus+1 button so that others may also find it.
___________________________
H. Michael Steinberg Esq.
Attorney and Counselor at Law
The Colorado Criminal Defense Law Firm of H. Michael Steinberg
A Denver, Colorado Lawyer Focused Exclusively On
Colorado Criminal Law For Over 40 Years.

The Edward Building
8400 East Prentice Ave, Penthouse 1500
Greenwood Village, Colorado, 80111

Main: 303.627.7777
Cell: 720.220.2277
24/7 Pager: 303.543.4433
FAX (Toll Free): 1.877.533.6276

Always investigate a lawyer's qualifications and experience before making a
decision to retain that lawyer or, for that matter, any professional ...in any field.