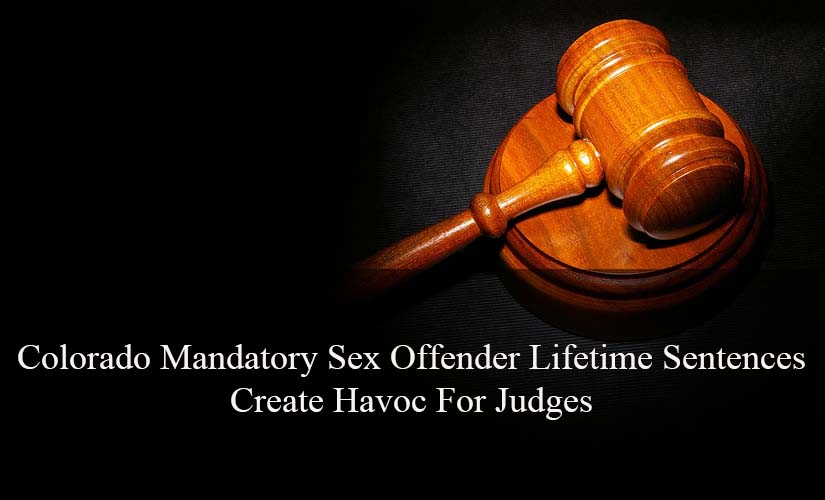 Colorado Mandatory Sex Offender Lifetime Sentences Create Havoc For Judges – Sentencing in certain more serious Colorado Sex Crime cases contains mandatory lifetime sentencing components that remove the discretion a Trial Judge typically has for sentencing.
Judge sentencing convicted Defendants in Colorado criminal cases focus on many factors – a broad outline of those considerations include:
The demographics of the Defendant,
The criminal history of the Defendant
Rehabilitation issues and needs
Details about the case (aggravating or mitigating facts)
The plea agreement
The protection of the community
No one in the Colorado criminal justice system believes that sentencing comes down to "mathematical precision." On the other hand when the law places specific mandates on a sentencing judge it removes the primary reason we elect Judges in Colorado – the use of their judgement which is based on experience and wisdom.
The "Purposes" For Sentencing In Colorado
Colorado law provides for specific FACTORS that Judges must utilize in making their sentencing decisions. The factors are listed in Section 18-1-102.5 C.R.S.
Section 18-1-102.5 C.R.S. Purposes of Code with Respect to Sentencing
(1) The purposes of this code with respect to sentencing are:

(a) To punish a convicted offender by assuring the imposition of a sentence he deserves in relation to the seriousness of his offense;

(b) To assure the fair and consistent treatment of all convicted offenders by eliminating unjustified disparity in sentences, providing fair warning of the nature of the sentence to be imposed, and establishing fair procedures for the imposition of sentences;

(c) To prevent crime and promote respect for the law by providing an effective deterrent to others likely to commit similar offenses;

(d) To promote rehabilitation by encouraging correctional programs that elicit the voluntary cooperation and participation of convicted offenders;

(e) To select a sentence, a sentence length, and a level of supervision that addresses the offender's individual characteristics and reduces the potential that the offender will engage in criminal conduct after completing his or her sentence; ?and

(f) To promote acceptance of responsibility and accountability by offenders and to provide restoration and healing for victims and the community while attempting to reduce recidivism and the costs to society by the use of restorative justice practices.
The "Findings" Of Judges Who Impose Sentences In Colorado Criminal Cases
When a Colorado Judge sentences an individual for a crime – that Judge is required to make findings on the record during the sentencing to support that sentence if it is appealed.
Judges use these "findings of fact" to explain, in light of the facts of each case, why the Judge in THIS case imposed THIS sentence. Among the many, many factors that Colorado Judges consider in addition to the factors referenced above are the impacts of:
extreme emotional harm
leadership role in the offense
abuse of a position of trust
the degree of preparation in the commission of the crime
any criminal record (prior misdemeanor prior felony or felonies prior similar offense)
the time since most recent conviction
any mental/physical health problems
treatment for health problems
drug/alcohol abuse
prior or contemporary treatment for drugs/alcohol
the acceptance of responsibility
any cooperation with the authorities
effect of multiple counts factor in the case
vulnerable or targeted victim(s)
DA/defense sentence recommendation
restitution (paid before sentencing)
Every Judge that I have ever appeared before resented having their hands tied by mandatory sentencing laws. These Judges feel that they are elected to exercise their judicial discretion – that no two cases are like fingerprints and that the "flesh and blood" person being sentenced deserves to have all of the mitigating circumstances taken into account.
Under Colorado Law if you are convicted of the following offenses your senence must be to an indeterminate term of prison under Section 18-1.3-1004 C.R.S.
1. Sexual assault, section 18-3-402

2. Felony unlawful sexual contact, section 18-3-404(2)

3. Sexual assault on a child, section 18-3-405

4. Sexual assault on a child by one in a position of trust, section 18-3-405.3

5. Aggravated sexual assault on a client by a psychotherapist, section 18-3-405.5(1)

6. Enticement of a child, section 18-3-305

7. Incest, section 18-6-301

8. Aggravated incest, section 18-6-302

9. Patronizing a prostituted child, section 18-7-406

10. Class 4 felony internet luring of a child, section 18-3-306(3)

11. Internet sexual exploitation of a child, section 18-3-405.4

12. Attempt, conspiracy, or solicitation to commit any of these offenses if such attempt, conspiracy, or solicitation would constitute a class 2, 3 or 4 felony.
The Real Impact Of Colorado's Indeterminate Sentencing Laws – The 2016 Case of People vs. Ryerson
In 2016 , a University of Colorado student, Austin James Wilkerson, 22 was convicted of sexually assaulting a woman in violation of Sexual assault – Section 18-3-402.
The Judge would not sentence him to a fixed sentence in prison – not because the Judge did not feel that Ryerson did not deserve a prison sentence – but because the "prison option" required a life sentence. , because any sentence to prison had to be a life sentence of the Boulder District Judge Patrick Butler sentenced Wilkerson to 20 years to life on probation and 2 years in the Boulder County Jail on a program (allowing Wilkerson to leave jail during the day to work or go to school).
The sexual assault conviction was a Class 3 felony and carried a presumptive prison sentence of four to 12 years. However under Colorado law, if prison was imposed, the sentence had to be "indeterminate sentencing."
The Denver Post had this to say:
The narrow limit of Colorado's sentencing laws does not allow a judge to send a convicted rapist to prison for a finite term.
Had Judge Patrick Butler sentenced Austin James Wilkerson to prison, it would have been for an indeterminate term up to the rest of his life.
Those who are outraged by the apparent leniency of such sentences should look to the Colorado legislature for the solution.
State law could be modified to allow finite terms in prison for offenders like Wilkerson, or to permit release after reasonable terms for inmates who wait years for treatment that isn't available.
…in Wilkerson's case, Judge Butler also had to deal with Colorado's Lifetime Supervision Act, and that wrinkle forces us to view the judge's decision somewhat differently. The well-intentioned law passed in 1998 proved tricky for Butler, as Daily Camera reporter Mitchell Byars reported in a fascinating review of the case.
We, too, struggle with the indeterminate-sentence implications of the act.
Colorado's Lifetime Supervision Act Has The Opposite Impact Than Was Originally Intended
Colorado's Lifetime Supervision Act was designed to sentence the hardest core offenders. The law was designed to isolate the worst of Colorado's sex offenders while treating these same offenders in the Colorado prison system – the Colorado Department of Corrections.
Today – a prison sentence for some sex offenders is now essentially a life sentence with only a small possibility of parole – following the offender's successful treatment of that offender. The problem is this – resources for prison based sex offender treatment – are very limited and those waiting on the long lists for such treatment – wait many years.
Recently a retired judge – facing this same issue, said this:
"…because of the lack of resources and the lack of funding, that's the reality. 'It's either probation or a life sentence'

"The Department of Corrections is woefully underfunded in terms of the treatment programs available to sex offenders. The likelihood of a defendant successfully completing sex-offender treatment in prison to the point where they would be eligible for release is statistically very low."
Summary And Conclusion – Colorado Mandatory Sex Offender Lifetime Sentences Create Havoc For Judges
The threat of indeterminate lifetime sentence, if convicted, – forces innocent people to take plea bargains in cases that should go trial. Colorado's law skews the decision to fight for their right to due process. For that reason, the law must be amended – to permit the innocent to go to trial – and to permit Colorado Judges to sentence according the facts and circumstances of each case.
Colorado Mandatory Sex Offender Lifetime Sentences Create Havoc For Judges
If you found any of the information I have provided on this web page article helpful please click my Plus+1 or the Share buttons for Twitter and Facebook below so that others may also find it.
The reader is admonished that Colorado criminal law, like criminal law in every state and at the Federal level, changes constantly. The article appearing above was accurate at the time it was drafted but it cannot account for changes occurring after it was uploaded.
If, after reading this article, you have questions about your case and would like to consider retaining our law firm, we invite you to contact us at the Steinberg Colorado Criminal Defense Law Firm – 303-627-7777.
Never stop fighting – never stop believing in yourself and your right to due process of law. You will not be alone in court, H. Michael at your side every step of the way – advocating for justice and the best possible result in your case.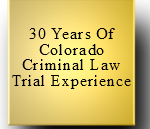 ABOUT THE AUTHOR: H. Michael Steinberg – Email The Author at [email protected] – A Denver Colorado Criminal Defense Lawyer – or call his office at 303-627-7777 during business hours – or call his cell if you cannot wait and need his immediate assistance – 720-220-2277. Attorney H. Michael Steinberg is passionate about criminal defense buy cialis online cheap. His extensive knowledge and experience of Colorado Criminal Law gives him the edge you need to properly handle your case.
"A good criminal defense lawyer is someone who devotes themselves to their client's case from beginning to end, always realizing that this case is the most important thing in that client's life."
You should be careful to make a responsible choice in selecting a Colorado Criminal Defense Lawyer – and we encourage you to "vet" our firm. Over the last 30 plus years – by focusing ONLY on Colorado criminal law – H. Michael has had the necessary time to commit to the task of constantly updating himself on nearly every area of criminal law, to include Colorado criminal law and procedure and trial and courtroom practice. H. Michael works hard to get his clients the best possible results in and out of the courtroom. He has written, and continues to write, extensively on Colorado criminal law and he hopes this article helps you in some small way – Colorado Mandatory Sex Offender Lifetime Sentences Create Havoc For Judges.
Summary
Article Name
Colorado Mandatory Sex Offender Lifetime Sentences Create Havoc For Judges
Description
Sentencing in certain more serious Colorado Sex Crime cases contains mandatory lifetime sentencing components that remove the discretion a Trial Judge typically has for sentencing.
Author