By H. Michael Steinberg Colorado Sex Crimes Criminal Defense Lawyer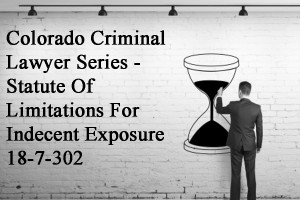 Colorado Criminal Lawyer Series – Statute Of Limitations For Indecent Exposure 18-7-302 – The confusion surrounding Colorado "sex crimes laws" includes the question – recently answered by the Colorado Court of Appeals – of which statute of limitations applies to this misdemeanor crime of Indecent Exposure?
The answer is simple – while indecent exposure is technically a sex crime under Colorado law. The time bar for filing this charge under 16-5-401(1)(a) is the same as it is for all Colorado misdemeanors – 18 months.
The Reasoning For Applying The General Misdemeanor Statute of Limitations For Indecent Exposure In Colorado – 16-5-401.
Under Colorado's statute of limitation law – 16-5-401(1)(a) there is no statute of limitations for any "sex offense against a child". The kinds of sex crimes that can be committed under this law includes any "sex offense against a child" and Indecent Exposure is included under this law (Section 18-3-411(1).
The Colorado Court of Appeals held that the removal of a statute of limitations for "sex offenses against a child" only include any "'unlawful sexual offense' that is a felony." § 6-5-401(1)(c)(IV)
While there is no statute of limitation for felony sex crimes against children in Colorado, there IS a statute of limitations for misdemeanor sex crimes committed against children.